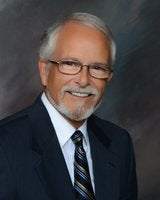 I live on an acreage east of Osceola with Ann, my wife of fifty years.  We have been members of the Sac Osage Electric Cooperative for thirty-nine years.
I attended Hanover College, Depauw University, Ohio State University of Missouri, and Drake University, culminating in a J.D. degree (law). Following service in the military, I became the Prosecuting Attorney for St. Clair County, and then served as Associate Circuit Judge for St. Clair County for another twenty-four years.  I am currently retired and enjoying grandchildren and country living.
I have completed courses to become a Credentialed Cooperative Director and additional Board Leadership Courses. Our cooperative is facing challenges such as governmental regulation, renewable energy requirements, distributed generation, and continually increasing costs for equipment and supplies. Keeping your electric rates at a reasonable level, making your service reliable, and operating the cooperative in a manner which is responsive to your needs as member-owners are goals shared by myself and all the Directors.
I am proud to represent District 4 on the Board and appreciate the confidence you have placed in me. I am asking for your continued support and will strive to represent each of you.